We are Warrington's first Key Stage 4 and 6th Form academy dedicated to providing a specialist curriculum that excels in Science and Engineering. Our £10 million iconic building was completed in September 2016, complete with £1m of specialist engineering and digital equipment. Since our first year of opening in 2016, we have helped secure excellent destinations for our students, including high level engineering apprenticeships with our employer partners and specialist science and engineering degrees at some of our top universities; a trend set to continue in 2018/19 as we further develop opportunities to get young people into the best careers in Warrington and beyond.
At UTCW, we aim to create a unique, aspirational, technical and academic curriculum, which prepares our students for an exciting career. This could be via full time university study, a degree apprenticeship or direct entry into employment. Alongside our powerful network of employer and university partners, getting students into outstanding destinations is our passion. At the heart of this lies our aspiration for students to achieve the best Maths, English, Science and Engineering outcomes at GCSE and A Level.
With close support from our university sponsor, Manchester Metropolitan University (MMU), we reap the benefit of their expertise by supporting students' access into high-quality Higher Education provision, as well as the technical know-how of the academic experts at the MMU School of Science Engineering and Faculty of Education. Whether delivering master classes and technical projects with students, or upskilling staff through CPD, MMU are helping us deliver education to the highest level.
At UTCW, we are proud to have a strong relationship with some of of the North West's highest regarding STEM organisations, including Sellafield Ltd, Wood PLC, Cavendish Nuclear, Atkins, Nuvia, and Stanley Engineered Fastenings. Throughout their time with us, students have access to these employers on a regular basis, through breakfast meetings, one-to-one mentoring, guest speaking, and employability skills sessions. Throughout our culture, employability and personal development is embedded strenuously, ensuring that the growing number of employers who want to work with us can secure the best talent in Warrington.
Centrally located with excellent train and bus transport links on our doorstep, UTC Warrington is accessible for students far and wide. I look forward to working with students, parents, MMU and employers alike, as we continue to establish UTC Warrington as an outstanding, unique and dynamic educational institution.
Lee Barber, Principal & Chief Executive
An Ideal Location
The UTC is located in the heart of the town, and in close proximity to Warrington's transport interchange, making it ideally located to support the growth of key engineering  businesses. UTC Warrington is the most iconic building in the locality. Rising 6 stories high, UTC Warrington creates a professional, corporate environment, as opposed to the more traditional school and college facilities across the borough.
Carefully designed by leading academics, employers and architects, the building is home to £1 million of specialist engineering equipment, purposely chosen to teach students the skills needed for industry. This really is how our students will gain a competitive edge; other schools and colleges simply do not have this wealth of resource to deliver such a specific, technical curriculum.
UTC Warrington houses state-of-the-art ICT resources. Each teaching space has the latest interactive computing technology, to further engage and support students.  Our engineering workshops, science labs, learning resource centre and general learning spaces also benefit from contemporary furniture and stylish design, providing an aesthetically pleasing environment for students to flourish.
Student health and happiness is at the heart of all our planning at UTC Warrington; working alongside our catering partners, we serve tasty and affordable food in our top floor food hall, as well as our café and snack serveries dispersed throughout the building.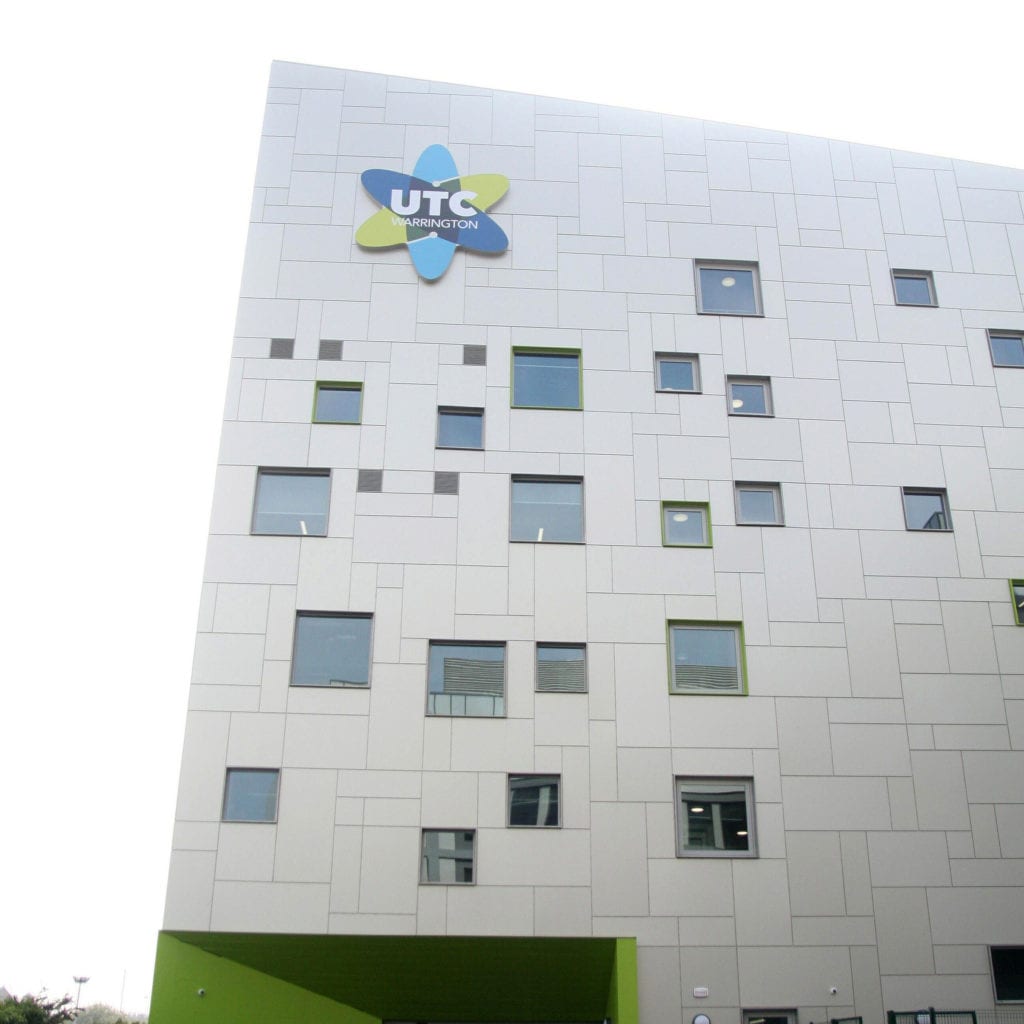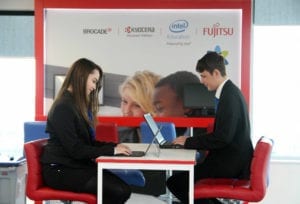 Culture
UTC Warrington has a business-like feel in every aspect of college life. It is embedded throughout all aspects of the college from the curriculum and the 8:30am – 4:00pm working day, including technical projects and enrichment activities.
Students earn reward tokens based on the 5 elements of the PiXL EDGE personal development framework; leadership, organisation, communication, initiative and resilience. The PiXL Edge is a framework designed for schools and colleges to develop and accredit in students those personal attributes essential for employability and life.
The PiXL Edge framework underpins all activities at UTC Warrington and is used by staff to encourage and track students' development.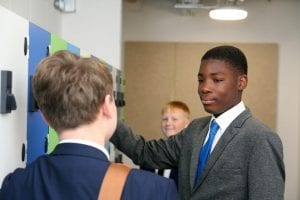 Working Day
At UTCW the working day starts at 8:30am and runs until 3.00pm Monday – Thursday. Enrichment activities, intervention and private study sessions operate between 3.00pm and 4.00pm. On Fridays the working day runs from 8:30am – 2:00pm.
Monday – Thursday, the working day is split into the following blocks:
8:30am – 9:00am – Tutor Session/SMSC
9:00am – 10:00am – period 1
10:00am – 11:00am – period 2
11:00am – 11:20am – break
11:20am – 12:20pm – period 3
12:20pm – 1:20pm – period 4
1:20pm – 2:00pm – lunch
2:00pm – 3:00pm – period 5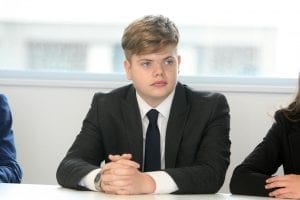 Dress Code
All Year 10 and 11 students are required to wear a 'business attire'. This comprises of a smart business suit, in standard blue, navy, grey or black colour. This should be accompanied by a white shirt or blouse, smart black shoes, and a UTC Warrington tie or neck scarf . Additionally, all students must wear a UTC Warrington lanyard and identity badge.
Year 10 and 11 students are required to purchase a UTC Warrington sports kit comprising of shorts or skirt and t-shirt. A sweatshirt is also available to purchase, though these are to be worn for PE and sports activities only.
Year 12 and 13 students at UTC Warrington wear a business suit of their choice along with a shirt or blouse. Students can choose their preference of tie or neck scarf, along with smart footwear.