Some students will use our specialist STEM courses to go to university while others will secure top apprenticeships in their chosen field. 
At 6th form, our focus is on employability and career-readiness. This involves project work, working with employers, and spending time out of the classroom on work placements and with guest lecturers. 
Unique 6th Form Offer
Students at UTCW 6th form will gain skills and qualifications that are ideal for a high quality apprenticeship or university place that are backed by top employers and Higher Education institutions. 
The UTC curriculum is characterised by high quality Science, Engineering, and Creative courses, alongside unique opportunities for personal and social development, and extended project skills. 
We offer students the opportunity to take part in National Citizen Service (NCS) in partnership with Warrington Youth Club, whilst other opportunities such as joining our Combined Cadet Force or taking part in Duke of Edinburgh are actively encouraged.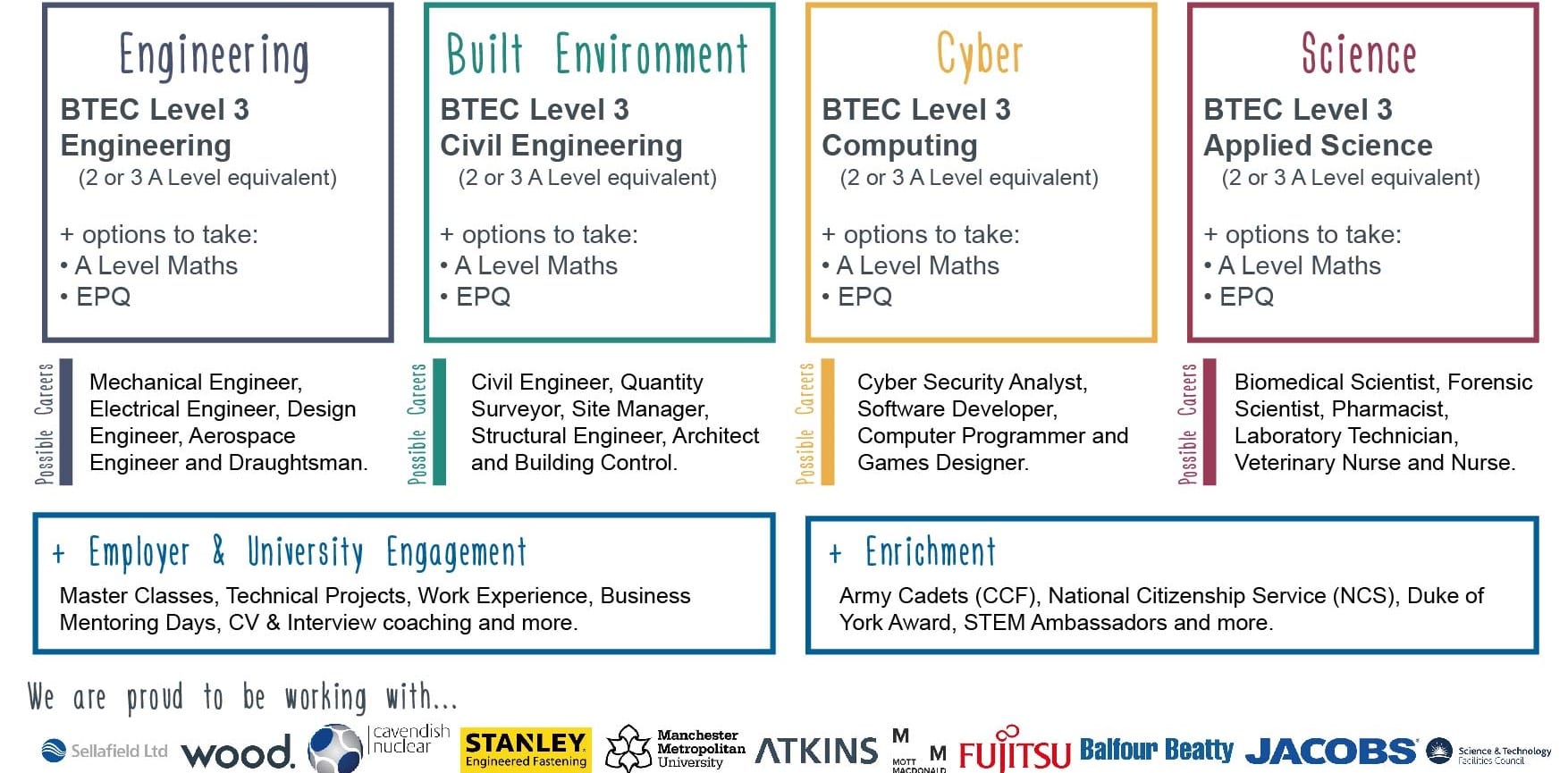 Our Pathways
Our pathways have been designed by employers who are seeking a select set of skills from our students. Our nationally recognised Technical Qualifications are equivalent to A-levels and offer a broad experience in learning and opportunities to gain a detailed understanding in specialist areas of Engineering, Science, and Cyber.
Alongside our specialist curriculum, students will recieve high-level support from their Personal Academic Tutor (PAT) and Progress Leaders to support applications for university and apprenticeships. 
Engineering
Equivalent to 2 or 3 A Levels

+ options: A Level Maths and EPQ
As well as achieving specialist A Levels and BTECs, students will be able to work with leading employers to nurture their technical and creative skills, alongside opportunities for broader personal development. 
Throughout their time at UTCW, students will build knowledge and contextualise their learning through our network of employer partners and our university sponsor (Manchester Metropolitan University). This is done through work experience opportunities, guest lectures, and employability embedded throughout the UTC.
Partner organisations work with UTC Warrington to deliver specialist masterclasses, CV & interview skills, and a range of project-based tasks.
PROFESSIONAL QUALIFICATIONS
Students have the opportunity to take complete a number of specialist courses that will boost their CV and broaden their personal development experience. 
AAT (Accountancy) 

PRINCE2 (Project Management)

Resilia (Cyber Security)
PERSONAL ACADEMIC TUTOR
At UTCW, all students will be assigned a Personal Academic Tutor (PAT) who will be the first point of contact each day. Our daily tutor sessions takes place between 8:30am and 9:00am, where students will learn about modern issues, current affairs and a weekly employability session to track progress around career-readiness.
The half hour morning session also allows for your PAT tutor to address any attendance or progress issues.
Daily tutor sessions also allow for personal development activities such as CV writing, UCAS and apprenticeship applications, and preparation for coursework and exams. Your PAT tutor will support you in your development during your time at UTCW.
MONITORING PROGRESS
In supporting our students on their journey to the best grades, our teachers will continuously monitor each student's progress. Progress grades will be assessed and shared with students and parents throughout the year in termly reports.
Students' individual programme of study will be amended on the basis of these reports and additional support provided where necessary.
We will also invite parents and carers to meet with subject teachers in regular parents evenings throughout the year. A key part of the UTCW success is transparent communication and support between the college, its students, and parents/carers.