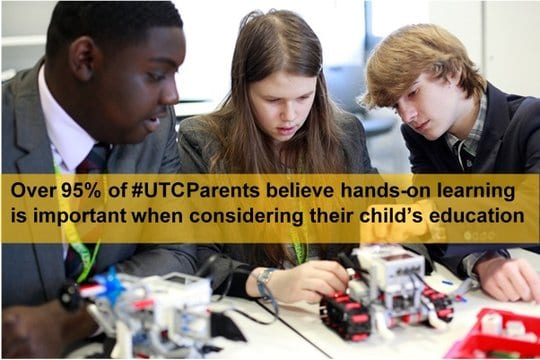 New research released by the Baker Dearing Educational Trust shows that for two thirds (66%) of parents their biggest fear is that their child will not find a job when they leave education. Nearly half (48.1%) of parents said they felt stressed about their child's education and 80% of parents believed the education system needed to change to reflect
21st century working Britain.
Baker Dearing Educational Trust, the charity that promotes University Technical Colleges (UTCs), surveyed over 1000 parents with teenagers at mainstream schools and, in a separate survey, 450 parents whose children attend UTCs.
The research reveals that parents who have children studying at UTCs feel more positive about their children's prospects. Three quarters (70%) said the UTC has made their child more confident in getting a job and 85% of parents believed the UTC was preparing their child for the world of work. This figure dropped to just 68% when the same question was asked of parents with children at mainstream schools.
Nearly two thirds (64%) of mainstream school parents said they wanted a greater variety of choice in the type of school for their child and 69% said they wanted the option to select a technical education if it reflected their child's talents.
But parents are confused about the options available to children. Although more than half (55.30%) of parents with children in mainstream schools felt well informed about academies, only 2 in 5 parents (41%) felt informed about University Technical Colleges. However, when UTCs were explained to them 86% of parents said they might consider a UTC for their child if there was one available in their area.
Lord Baker, Chairman of Baker Dearing Educational Trust, the charity behind UTCs, said:
"These findings highlight the importance parents place on their children's education and whether it gives them the qualifications and experience they need to secure a job. Although it's early days, UTCs are playing an important role to ensure children get the education they need for the 21st century workplace. This is valued a great deal by parents and I'm delighted that so many would consider a UTC education for their children."