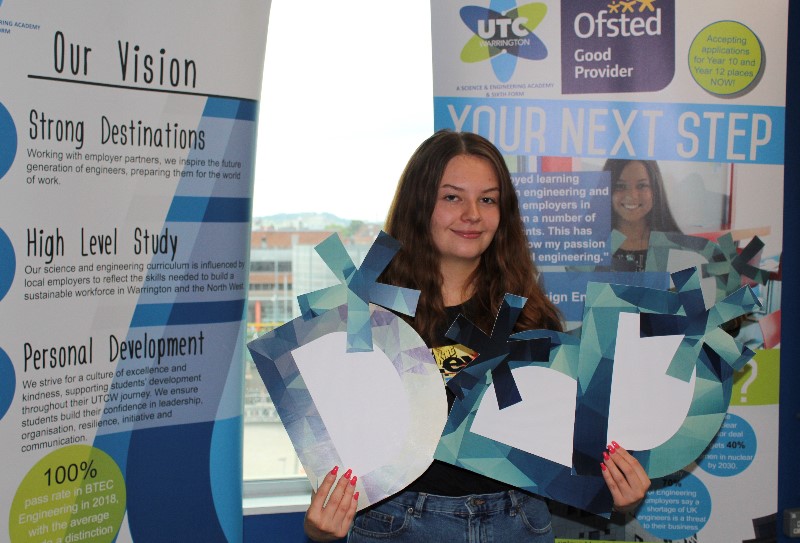 UTC Warrington students have shared their joy and hopes for the future after receiving their academic and technical grades during an unprecedented double results week.
At the UTC, which specialises in engineering, digital, construction and healthcare, students can complete technical qualifications as well as GCSEs and A Levels.
This approach enables students to develop the technical skills in demand by employers and provides the opportunity to progress to apprenticeships and university.
Year 13 students received their A level and technical grades on Tuesday, August 10th, whilst Year 11 students collected their GCSE results on Thursday, August 12th.
The usual results days dates were moved nationally this month as a result of the pandemic.
Lee Barber, Chief Executive and Principal, UTC Warrington, said: "I am immensely proud of our students who have worked very hard in challenging circumstances and achieved some great grades as well as strong university and employer destinations despite experiencing another tough year due to the pandemic."
He added: "We know that the regional and national economy needs people with the right technical skills to support a skills-led pandemic recovery. That is what the UTC is all about – equipping students with the vital skills that employers need that enable them to go onto fantastic careers."
In the civil engineering and engineering technical qualifications, Year 13 students achieved a 100% pass rate with 36% being awarded distinction* or distinction grades.
Year 13 students are progressing to top universities and apprenticeships with leading employers including Sellafield, BAE Systems and Red Bull Racing.
Year 11 students also achieved a 100% pass rate in their technical specialisms – construction, engineering and digital.
Most Year 11 students have chosen to stay on to complete their sixth form studies at the UTC for another two years to further develop their STEM skills and knowledge, so they are well positioned to secure top university places and apprenticeships.
Amber Thomason,18, is looking forward to starting an apprenticeship at Sellafield in Cumbria after achieving a top set of technical results.
Amber gained A Level maths as well as the highest grades, triple distinction stars (D* D* D*), in her civil engineering technical qualification.
She said: "I felt nervous waiting to find out how I had got on, as I have worked really hard. I am so pleased with my results. I've got what I was hoping for and what I needed to move on with my career."
Amber added: "I chose to study at the UTC as I felt it was the right move to start my career. I knew it would help me gain experience to ensure my success.
"The employer partners were a huge part in my move. I knew that I'd gain experience working with them and secure a destination in the long run having those contacts."
Kyle Burke, 19, is going on to study a Degree in Architecture at the University of Liverpool after receiving his A Level and technical results.
Kyle achieved a distinction star and double distinction (D* D D), in his civil engineering technical qualification as well as a grade C in A Level art.
He said: "I am pleased with my results. I have got what I was expecting and deserved. I chose the UTC because I wanted to get into architecture and heard they were a good choice for that career path and have great facilities."
Kyle added: "Studying technical qualifications is a good choice if there is a specific career and industry that you want to get into."