We received a visit this week from former Conservative Education Secretary and UTC champion Lord Baker as he attended the site of Warrington's new University Technical College on Dallam Lane in Warrington town centre.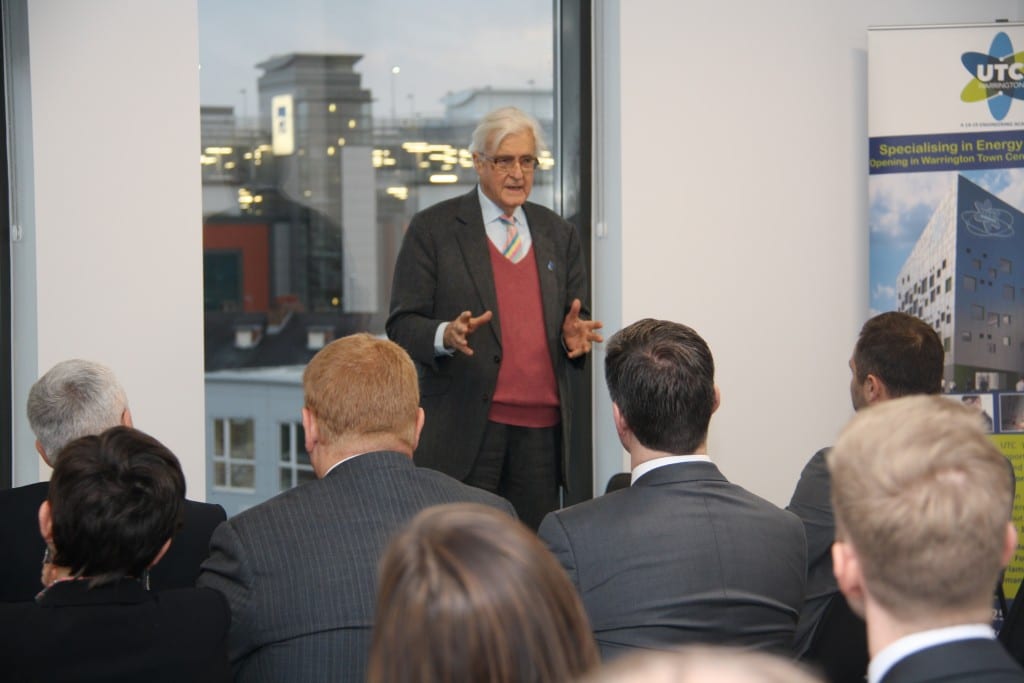 As co-founder and Chairman of the Baker Dearing Trust, (an educational trust that was set up in 2009 to promote the establishment of University Technical Colleges in England), the purpose of Lord Baker's visit was two-fold; to see Warrington's new cutting edge educational institution, that when it opens to students in September 2016 will specialise in engineering and energy, and secondly to meet and present to a number of the UTC's employment partners and prospective students.
During his visit Lord Baker met with the UTC's employment partners, including representatives from Sellafield Ltd, Manchester Metropolitan University, Atkins, Nuvia, Tenet Consultants, Warrington & Co, Flamefast, National Nuclear Laboratories, National Decommissioning Authority and ISG.
Lord Baker then took part in an open discussion with the employment partners about the benefits and opportunities that UTCs can provide to students in preparing them for the world of work and in working towards achieving productive careers. This was then followed by a meet and greet session with a small number of prospective students.
Of his meeting with Lord Baker, Year 9 student Christopher Hankey said "Lord Baker is really inspirational, he has worked with so many really important people throughout his career. He explained why it was a good choice to make, and how going to the UTC will be important for us later in life because of how the world around us and technology is advancing so quickly."
Whilst Year 9 student Georgia Bowker said" Meeting Lord Baker was an amazing opportunity.  It really gave me an insight into everything the UTC offers, it was also really interesting to hear about the successful previous UTC students".
With the launch of the Baker Dearing Educational Trust Lord Baker pioneered the idea of "career colleges" that would provide technical education for 14 – 19 years, enabling them to access training and educational in a wide range of subjects including construction, healthcare, catering with many UTCs, such as Warrington, specialising in the "STEM" core subjects of Science, Technology, Engineering and Maths.
Construction of the new £10 million, 620-place UTCW began in July 2015 following the approval in March from parliamentary Under-Secretary, Lord Nash. Located in the heart of Warrington within the Stadium Quarter, UTCW will have excellent access to rail and bus networks. Completion of the build is scheduled for the summer of 2016.
UTCW is sponsored by Manchester Metropolitan University and local employers. UTCW will specialise in energy and engineering and will offer an outstanding opportunity for the young people of Warrington and the wider region to work with major energy and engineering employers based in the town, including Sellafield Ltd, Amec Foster Wheeler, Tenet Consultants, Nuvia, Atkins, National Nuclear Laboratories and Flamefast.
The aim of UTCW is to integrate technical, practical and academic learning and create an environment where students can thrive and develop the abilities that industry needs. As international, national, regional and local employers, the industrial sponsors will play a major role, helping to shape the curriculum and relate it to future jobs that match the needs of the local economy.  In turn, students will acquire the skills and knowledge that are in demand from employers along with having access to the latest equipment and technology used in industry.
Speaking about his visit to University Technical College Warrington Lord Baker said: "This was a wonderful opportunity to visit the UTC Warrington site. Next time I visit I am looking forward to seeing the completed facility and meeting the students. UTC's prepare the students for work, teaching skills that mix the brain and the hand. Students leave work ready. Of the 1700 students in the UK who graduated this year 99 – 100% have now found employment".
UTCs are a relatively new concept in education, offering a safe, high quality, technically-orientated curriculum for 14-19 year olds in an environment where young people are encouraged to follow their interests and to develop them into engineering-related skills and qualifications.  At least 40% of the time spent by students at UTCW will be dedicated to the technical specialisms of energy and engineering including design and building, working in teams and problem solving.
Principal and Chief Executive of UTCW, Lee Barber said: "Today's visit from Lord Baker to University Technical College Warrington has been invaluable as we have heard how UTC's are already impacting the lives of young people across the country. As a champion of the UTC concept Lord Baker outlined the importance of learning skills in technical subjects to provide young people with a greater confidence in finding employment after education."
UTCW will offer its students clear progression routes into higher education, apprenticeships or full time employment. By working closely with local employers UTCW will offer students, as part of their studies, regular opportunities to connect with local businesses through work experience, technical projects and masterclasses.
The UTC will be a key component in the regeneration and renaissance of Warrington's town centre. The facility will be situated at the heart of Warrington's ambitious Stadium Quarter regeneration project; a £190 million mixed use development comprising educational, office, leisure and residential uses.