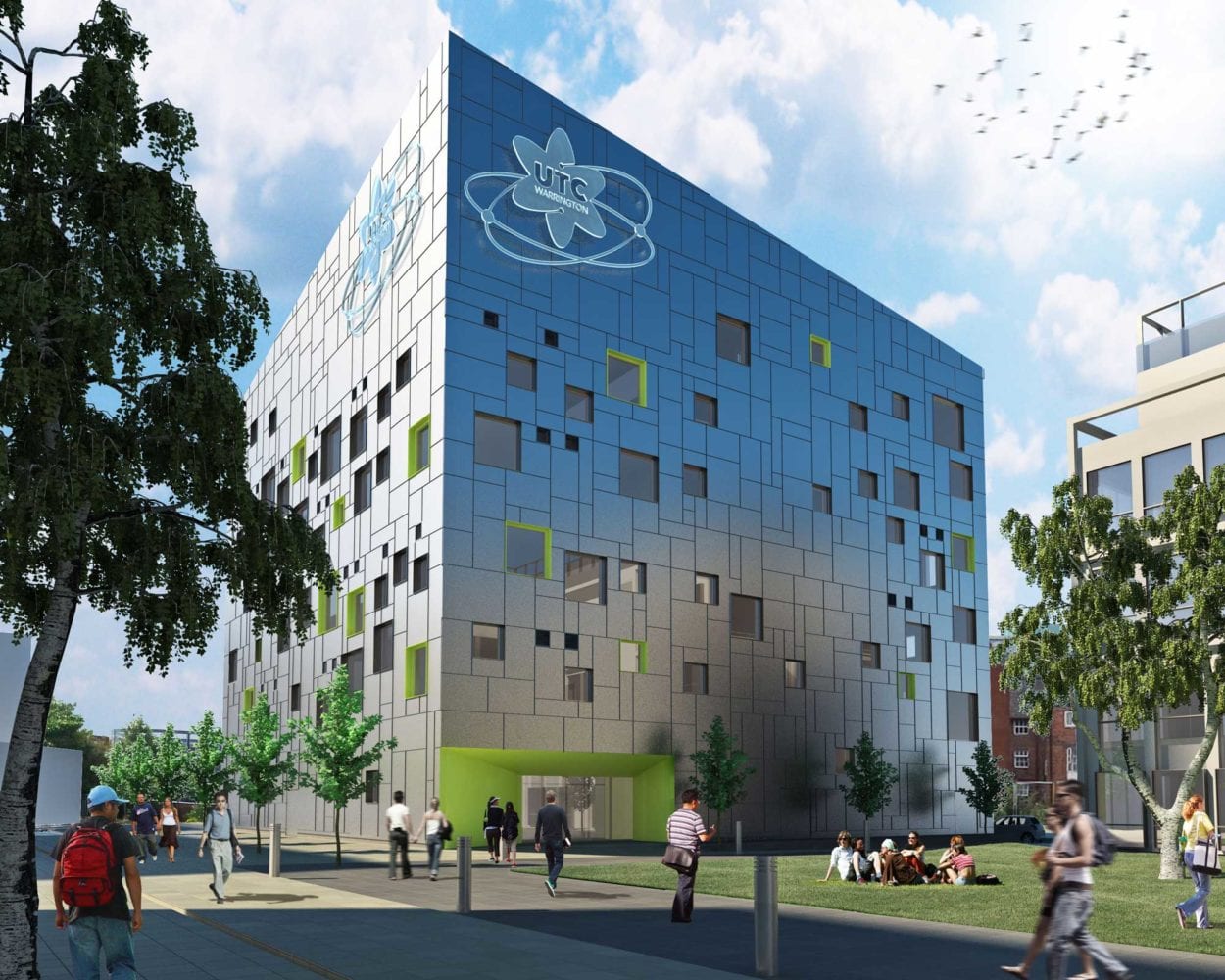 Applications to study at the first University Technical College in Warrington are coming in fast following a huge turnout and a great atmosphere at the official 'Launch Event' for University Technical College Warrington on Thursday 17th September.
Specialising in energy and engineering, University Technical College (UTC) Warrington will open in September 2016 as part of the new Stadium Quarter development in Warrington town centre. The £10 million project will be conveniently located just yards away from Warrington Central train station and Warrington Bus Interchange making it easily accessible to students from across the North West. Further information on the curriculum, specialisms and how to apply can be found at www.utcw.co.uk.
The 'Launch Event', held at The Pyramid in Warrington town centre proved so popular prospective students and their families were queuing out of the doors as they waiting for the event to start.
The evening comprised of presentations from newly appointed Principal & Chief Executive – Lee Barber on the curriculum, facilities, culture and opportunities available to prospective students who opt to become students at UTC Warrington.  Meanwhile, more than 15 employer partners of the college were on hand to discuss they types of opportunities available within their businesses for UTC Warrington students and explain how they intend to work with students on technical projects, workshops and masterclasses to help relate what students study in the classroom back to real life experiences.
Employer partners demonstrated some of the technology and equipment that will be made available to students who join including augmented reality, 3D printing, robotics, AutoCAD and a virtual welding machine. Students really enjoyed getting hands on and talking to current apprentices. Meanwhile, parents had the opportunity to speak to key team members from employer partners to gain a real insight into why there is a need for so many more engineers in the UK and how their businesses intend to use the opportunity to work with UTC Warrington as a means of identifying their employees of the future.
At the event Principal & Chief Executive, Lee Barber said: "I am overwhelmed by the turnout and enthusiasm for UTC Warrington by students, parents and employers alike. Not only do employers have a need for a more highly skilled workforce, but aspirant young people are looking for alternative routes into a career in Engineering or access to Engineering degrees at University. We are pleased to be able to bring together these groups and provide unrivalled facilities and a bespoke curriculum to ensure our students gain the very best, forward thinking education".
The college will deliver exciting and engaging qualifications to 14-19 year olds, alongside employer partners such as Sellafield Ltd, Amec Foster Wheeler, Rolls-Royce, National Nuclear Laboratories, Atkins, Fircroft Engineering, Kawasaki Robotics and Jungheinrich. Alongside university partner Manchester Metropolitan University.
Commenting on the partnership between Manchester Metropolitan University and UTC Warrington, Professor Philip Wheater, Dean of Faculty and Pro-Vice Chancellor, Faculty of Science and Engineering at Manchester Metropolitan University, said:
"We are very pleased to be part of UTC Warrington. Our world-class engineering research and teaching complements our partner employers' expertise to provide first-class opportunities for 14 – 19 year old students. The training and education at UTC Warrington will equip students with the crucial skills needed to tackle the industrial challenges of tomorrow".
Applications to be part of the September 2016 intake must be made by 29th February 2016. However, students who apply before the 30th November will be entered into a prize draw to win an iPad. There are a limited number of places available for 2016, 100 places for Year 10 students, and 120 places for Year 12 students. Young people currently in Year 9 or Year 11 from across Warrington and surrounding areas can apply for a place to start in September 2016.
The next UTC Warrington event is planned for Thursday 22nd October at The Pyramid in Warrington town centre. The event will take a slightly different format as students will have the opportunity to take part in taster workshops in teams with representatives from Sellafield Ltd, Atkins and Kawasaki Robotics. Places at the event are limited, so make sure you visit www.utcw.eventbrite.co.uk to book a place as soon as possible.
With construction now underway at the site on Dallam Lane students can look forward to watching their new college take shape over the coming months. The iconic building will be clearly visible from several vantage points across Warrington, especially to anyone travelling into the town on the Central station line or travelling along Midland Way alongside the Golden Square.