Following on from the recent success of the University Technical College (UTC) Warrington Launch Event in September, the October Taster Event held at The Centre on Birchwood Business Park on Thursday 22nd October once again proved extremely popular with both parents and students.
Parents were given an update on the latest project developments by Principal & Chief Executive, Lee Barber alongside an employer's perspective on the college from Operations Director at Tenet Consultants and Project Steering Group Chair, Aidan McManus. Meanwhile prospective students took part in workshops arranged by staff from several of the college's employer partners, including: Amec Foster Wheeler, Atkins, L J Create, Manchester Metropolitan University and Sellafield Ltd.
Students were split into groups, with each group working on a different project with their employer partner. Prospective Year 12 students working with John McCann, Principal Lecturer at the Manchester Metropolitan University, School of Engineering were given an insight into how engineering has a key part to play within sport followed by a group electronics task.
Meanwhile, prospective Year 10 students working with Rob Rowland and Mike Roberts from Atkins Nuclear where set a number of challenges to solve during their workshop session. One of which required the students to work together and guide each other on a project which simulated moving a nuclear rod from one area to another. The task relied heavily on communication skills as the operator was blind folded and had to listen to their team members to make it safely across without dropping their 'nuclear rod'.
Of the workshop, 13 year old Sam from Westbrook said "Working with Atkins Nuclear at the UTC Taster Event was really fun. I enjoyed working on the different tasks we were set, especially when we were blindfolded and moved nuclear rods from one box to the other."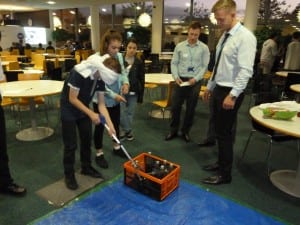 Other workshops included Sellafield Ltd's session on creating a structure that could withstand an earthquake using 'Shake Tables' created by some of their current apprenticeship students; a virtual world exercise with L J Create, which challenged students to make their island run on green energy, with the most cost effective solution and a nuclear power station task hosted by Amec Foster Wheeler.
Employers were asked to select one participant from their workshop group to win a prize for their contributions during the workshop session. Iain and Tim working with the L J Create team couldn't separate students Cerys and Brandon in their group and decided that they would award the prize based on who gave the best presentation at the end. But both Cerys and Brandon did a fantastic job and as a result were both awarded a prize on the night along with winners from all of the workshops.
All of the groups presented back to the audience on what they had done in each of their workshops, with some students taking the lead for their whole group and others sharing the presentation between them. Many parents commented afterwards how impressed they were that their son/daughter had stood up and presented to such a large audience. Parent, Sarah-Jane Cleverly said "I couldn't believe it when Jamie stood up at the front of the auditorium, let alone explained what he had been doing. I felt extremely proud of him and his team."
The team to win the overall prize of best workshop was headed up by John Royle and his team of apprentices from Amec Foster Wheeler. Students studied a schematic diagram of a nuclear power station, before having to work together to bring to life a presentation on how a nuclear power station works. The interactive demonstration encouraged all of the students in the group to work together. Each student in the group won a UTC Warrington goody bag to take home.
If you are interested in finding out more about applying to become a UTC Warrington student then why not come along to our next event on Thursday 19th November, 5.30pm – 8.00pm, at The Pyramid, Warrington. You can find out more information and register for your workshop place at www.utcw.eventbrite.co.uk.
Alternatively visit www.utcw.co.uk for further details about the University Technical College.
Applications are welcome until 29th February 2016, however all applications received before the 30th November will be entered into a prize draw to win an iPad.
You can apply online here or click here to download a copy of the application form.